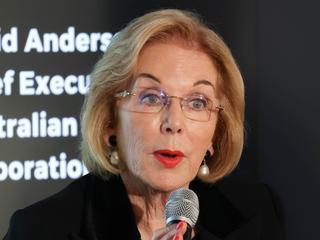 ABC chairwoman Ita Buttrose said there were "serious editorial lapses" in an ABC story that was the subject of complaints for not including research that "trans women can retain physical advantages".
The ABC would be conducting a "thorough debrief" for all those involved in the story and the matter would be reported to the ABC board, Ms Buttrose revealed in a letter sent to Liberal senator Claire Chandler.
The online article in question was found to be "materially misleading" by an internal review which said it had breached the standards for impartiality.
Ms Buttrose said the ABC participates in the ACON-run Pride Inclusion program AWEI index but "they have no bearing on editorial processes".
But blogger and IT specialist Kit Kowalski, who writes for the website ACON Exposed, says that ACON-approved training is now mandatory for all new ABC starters including journos and editors.
"The ABC has created a database of LGBTIQ staff members and established a practice where these staff members 'correct' content so that it conforms to ideological orthodoxy," she said.
"The ABC has created internal awards for LGBTQI content that 'changes the conversation' and their 2022 AWEI submission boasts that the ABC tells LGBTIQ stories 'the way they want it told'.
"It is clear from sources such as the Diversity & Inclusion Report that the ABC intends to promote LGBTQI content to audiences, and that they see the AWEI score as they key indicator of success."
Source: Dailytelegraph.com.au | Subscribe to The Daily Telegraph for exclusive stories