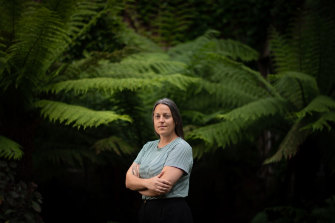 Lawford-Smith, a New Zealand-born woman in her late 30s, is an associate professor of political philosophy at the University of Melbourne. In late February she launched a website, www.noconflicttheysaid.org, that invited women to contribute anonymous stories "about the impacts on women of men using women-only spaces".

When Hannah McCann, a lecturer in gender studies at the same university, heard about the website, she was outraged. Two days later, McCann tweeted out an open letter to the university leadership accusing a staff member of creating a website that "vilified" trans people by denying the legitimacy of trans women and promoting the stereotype of trans people as predatory.

More than 2700 people signed the letter, including about 170 academics and 17 professors.

Students and staff staged a rally of more than 100 people and marched with placards to the office of the Dean of Arts, demanding action against one academic who, like many of them, identifies as a feminist and on the Left.

The letter caused divisions within the National Tertiary Education Union.

Big internet companies are increasingly defining gender-critical feminism as hate speech. In 2019, Lawford-Smith was reported for hate speech for tweeting that trans women who were biologically male should not have access to women-only spaces. Twitter banned her and she lost all her professional contacts and platform. Her protests to Twitter produced only automated responses.

"I'm in the peculiar position of being an associate professor at a great university, who cannot have a Twitter account to promote her own research, because it's deemed hateful," she says. "It's terrifying that an American company is controlling the speech of the whole world."

Lawford-Smith's claim seemed to be borne out by a recent episode of the ABC program, You Can't Ask That, on lesbians. A trans woman cheerfully tells the camera: "Trans women are women… I can be a lesbian and suck some dick. It just has to be attached to a good-looking lady." On the same show gender-critical feminists, many of whom are lesbian, were casually trashed as TERFs, without a representative of that viewpoint being heard.
Source: Cancel culture: Gender, sex and power, the debate dividing universities