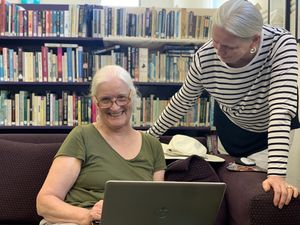 Kerr, who is the Principal Solicitor of the Feminist Legal Clinic in Sydney, joined forces with technologist and general polymath Spider Redgold to apply for a grant to found a women's Wikipedia editing group. Supported by Create NSW through the NSW Writers Centre (now Writing NSW) in 2017, the Women Write Wiki (WWW) group was born.


By March 2021, the group was celebrating four years of editing, activism and friendship, during which they estimate they've now created over 300 new pages on Australian and New Zealand women. Their efforts form part of growing international movements, such as Women in Red and Art+Feminism, whose work to increase the visibility and representation of women on Wikimedia platforms has seen the number of pages about women grow to nearly 19 per cent as of March 2021.[1]

This gender bias is perpetuated by the dominance of men on Wikipedia, which are estimated to make up as much as 90 per cent of editors,[2] yet another reason WWW was formed. The group has produced some of Australia's most prolific Wikipedians such as Ann Reynolds and Margaret Donald who walked through the doors of the library and have been stalwarts of the group and Australian editing community ever since.
Source: Four years of Women Write Wiki – Wikimedia Australia