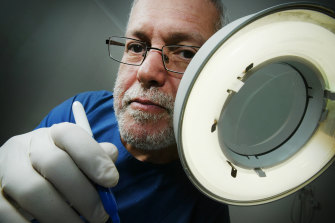 A Melbourne cosmetic surgeon faces civil court action over the removal of a 13-year-old girl's labia that allegedly left her disfigured and suffering serious psychological trauma.

In 2015, the woman complained to Dr Granot about a loss of sexual function and sensation as a result of the operation.

Dr Granot, who has been a cosmetic surgeon for more than 30 years, suggested she used a vibrator, according to court documents.

A consultation in 2018 with gynaecology and fertility expert Dr Raelia Lew found the woman's labia minora had been completely excised during the operation, which had also damaged surrounding tissue.

She will pursue Dr Granot for damages in the Supreme Court over several counts of alleged negligence, according to the writ.

It is not the first time Dr Granot, who also goes by the name of Ashley Granot, has performed a cosmetic procedure on a teenager.

In 2014, Dr Granot confirmed in an article published in The Sydney Morning Herald that he had conducted liposuction on three of his daughters, one of whom was 17.
Source: Melbourne surgeon accused of removing teen's labia, then showing it to her mother