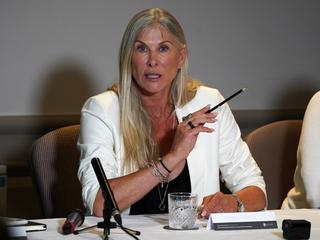 One of Britain's famous Olympic swimmers Sharron Davies has called for a boycott of Nike over its "insulting" depiction of women for using a trans influencer to market sports bras, but the message hasn't reached the England women's footballers.

Davies, the three time Olympian and Moscow silver medallist has led an international chorus of women on social media who have called for a boycott of Nike products after the company paid trans influence Dylan Mulvaney, who identifies as a woman but who has not undergone transition surgery, to promote women's sports bras and leggings.

Mulvaney raised eyebrows by previously promoting Tampax, but the biggest backlash so far has been the influencer's promotion of Bud Light Beer.

Nike responded to the controversy urging people to "be kind," "inclusive" and "to encourage each other".
Source: Subscribe to The Australian | Newspaper home delivery, website, iPad, iPhone & Android apps