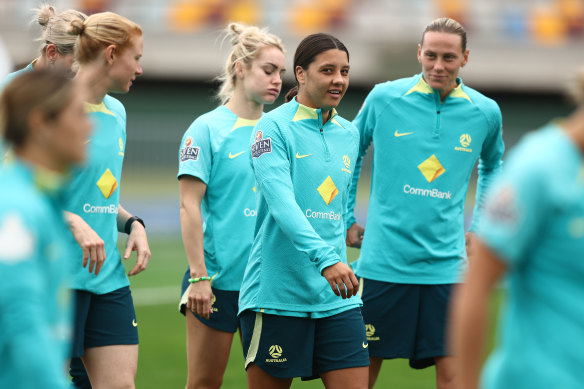 Many women swear the syncing of menstrual cycles is nothing more than an old wives' tale, a spurious urban legend reserved for the superstitious. For the Matildas, though, anecdotal evidence suggests the phenomenon is very real.
"The girls all seem to get in sync with each other in terms of when their cycle is as soon as they come into camp," says the national team's physician, Dr Brandi Cole. "It is absolutely crazy. One will come to me for some meds for premenstrual pain and then the next minute half the team's coming to me. It's a known phenomenon."
Dr Cole could not tell you the science behind a squad of players flying in from separate clubs around the world, at different stages of their menstrual cycle, and leaving after the 10-day international window with their bodies in harmony.
"But the girls swear by it and I have definitely seen that," she says. "If we're monitoring them out of camp, they'll be out of sync, and then by the time we're in a big camp they're all in sync together.
Some players from other teams use hormonal contraceptives (the pill) to delay their periods so they can avoid symptoms around game time. On average, about 30-40 per cent of female footballers take the pill – for reasons ranging from contraception to symptom management of menstruation and endometriosis.'
The effect of hormonal contraceptives on performance is an area supported by little research. In any case, the uptake among Matildas is well below that average – about 10 per cent – which may be partly why teammates find their cycles sync.
The upshot to that could be that many in the team start their periods on the day of, say, a World Cup knockout game. Even that, however, is not necessarily an accurate indication of performance.
"You may have the whole team be on their period for the game, but some girls feel better on their period," says Dr Cole. "Some have pain two weeks prior when they ovulate and then sluggish and heavy in the few days before their period, but then when the period actually comes they feel really light free and perform better.'
In short, it's complicated. But vice-captain Steph Catley is a strong proponent of education and the recent creation of period-conscious kits. For the first time, Australia's kit will feature period protection in the base layer under the shorts. Co-hosts New Zealand will swap their traditional white shorts for teal blue.
Source: 12ft | 2023 FIFA Women's World Cup: How the Matildas manage their menstrual health