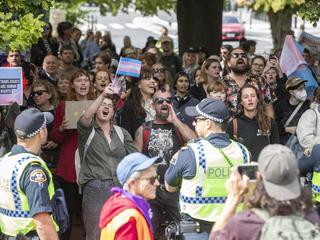 Earlier this year, an activist organisation named GLAAD (the Gay and Lesbian Alliance Against Defamation) parked a billboard truck outside the offices of The New York Times.
"Dear New York Times: STOP QUESTIONING TRANS PEOPLE'S RIGHT TO EXIST AND ACCESS TO MEDICAL CARE" read one side of the truck; "EVERY MAJOR MEDICAL ASSOCIATION SUPPORTS GENDER AFFIRMING HEALTHCARE FOR TRANSGENDER YOUTH. THE SCIENCE IS SETTLED," said another.
Parked in Manhattan's Garment District, the truck was far removed from the office buildings of Australia. Yet this attempt at intimidating journalists inside a news organisation was all too familiar. While journalists in Australia may not have trucks parked outside their office buildings, they too suffer from prolonged campaigns of hostility.
It would be a mistake to dismiss this as just another product of toxic American culture warring. The intimidation of journalists by activists attempting to report on transgender issues is a worldwide phenomenon.
And in Australia, our own Press Council appears to have capitulated. The Council recommends journalists and editors use the GLAAD (the organisation that parked a truck outside the Times) as a resource when reporting on trans issues.
In many contexts, such a guidance may be perfectly reasonable. But a journalist's primary allegiance is to the truth – not the concerns of various "stakeholders" and "peak bodies". When objective truth and the claims of advocacy groups collide, a journalist's allegiance must be with the former.
In the realm of transgender activism, influential organisations such as GLAAD have criticised the Times for accurate reporting on legitimate medical debates. Similarly, WPATH, another leading group, is itself divided over how best to treat gender-dysphoric youth. In Australia, ACON (previously the AIDS Council of NSW) plays a similar role to GLAAD, and asserts that terms such as "biological male" and "biological female" are inaccurate, and that labelling a penis a "male" organ and a vagina a "female" organ perpetuates stigma and discrimination. Are such organisations the reliable arbiters of truth? Thoughtful people should be free to disagree.
If journalists are advised to consult advocacy organisations and a specific set of experts when reporting on trans issues, the risk is that the public narrative becomes one-sided.
To their credit, management at the Times stood firm against GLAAD, releasing a letter declaring the journalism the newspaper had produced was "important, deeply reported and sensitively written".
In Australia, however, publications today expend significant resources responding to complaints made by activists every time an article about transgender issues is published. The Australian, for example, has had to defend my columns repeatedly after vexatious complaints have been made, and every other journalist in Australia knows if they report on gender-affirmative healthcare in anything other than a positive light, they will attract complaints that will take time and energy to respond to.
Source: Subscribe to The Australian | Newspaper home delivery, website, iPad, iPhone & Android apps