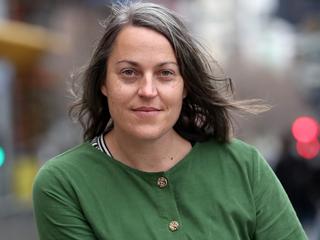 University of Melbourne vice-chancellor Duncan Maskell has slammed "disgraceful" campus vandalism by balaclava-wearing transgender activists – who were apparently targeting outspoken feminist philosopher Holly Lawford-Smith – and has referred the matter to police.
In a hard-hitting statement sent to the university's staff on Friday afternoon, Mr Maskell warned: "The type of criminal behaviour seen last night has the potential to incite further physical and psychological harassment, endangering people's well-being and safety, and it needs to stop right now.''
The Australian understands that around midnight on Thursday, two activists smashed windows and sprayed graffiti with words to the effect "Trans – we are not safe'' across the university's Sidney Myer Asia Centre Building in Swanston Street in inner Melbourne.
These activists urged students to boycott Ms Lawford-Smith's lectures, and they put up posters around campus declaring, "Only a fascist takes feminism", "Are you on the side of fascists?'' and "Our demands: Transphobes and Nazis off campus".
Ms Lawford-Smith estimates that only a handful of people are involved in the "hardcore" protests. She said many students were "absolutely fed up and don't agree with it'' but fear being targeted by trans activists, resulting in a "false consensus''.
Source: Subscribe to The Australian | Newspaper home delivery, website, iPad, iPhone & Android apps